Delicious Apple Crumble
By Claudia on Sep 23, 2009 | In Kuchen & Kekse, In English
Bitte hier klicken, um zur deutschen Version zu gelangen!
When I stayed at a friend's house in Cornwall earlier this month we had an apple blackberry crumble for dessert one evening. The apples were from the garden, the blackberries picked from hedges in the area of Angarrack. Such a treat! When I returned to Germany I wanted to make an apple crumble with a similiar crumble topping containing lots of oats.
I found a recipe in an old copy of BBC Good Food which had exellent ratings on their website. To sweeten the apple and to provide a little acidity fresh orange juice and a few table spoons of apricot jam were added.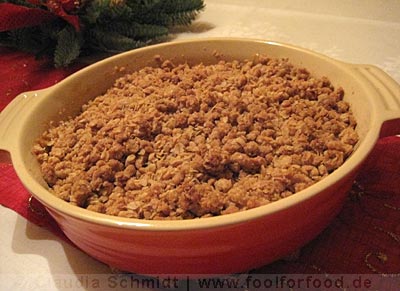 The crumble topping required a little golden syrup. But having maple syrup at hand I took the maple syrup.
This juicy and crunchy crumble was a big hit with my family! Will make it over and over again. I highly recommend to others to try this recipe!
Ingredients [what I altered]
1.1kg eating apples , such as Coxes or Boskop (but a granny smith will work as well) [I took 700 g]
3-4 tbsp apricot jam [2 tbs]
juice 1 large orange [juice of half an orange]
For the crumble
140g porridge oats [70 g]
100g plain flour [50 g]
1 tsp ground cinnamon [1/2 tsp]
100g butter [50 g; I took melted butter]
100g light muscovado sugar [50 g of light brown sugar]
1 tbsp golden syrup [1 tbs maple syrup]
Method
1. Heat oven to 190C/fan 170C/gas 5. Peel, core and thinly slice the apples and mix with the jam and orange juice. [I first mixed the jam with the orange juice] Spread evenly over a buttered 1.5-litre ovenproof dish, not too deep.
2. Mix the oats, flour and cinnamon in a large bowl. Add the butter in small chunks [or melted butter - much easier to mix!] and rub in gently. Stir in the sugar and rub in again. Drizzle over the syrup, mixing with a knife so it forms small clumps. [Mixed it with a fork - worked like a charm] Sprinkle evenly over the apples and bake for 30-35 mins until the juices from the apples start to bubble up. Cool for 10 mins, then serve with custard, cream, ice cream or even cornish clotted cream like I did!
More recipes in english

Cream Cheese Balls
Potato Parsnip and Carrot Fritters
Spiced Lentils with Cucumber Yogurt (recipe by Yotam Ottolenghi!)
Salmon logs with Mascarpone Cream and Caviar
Butter Stamps (like in former times)
Cold Buttermilk Soup - very refreshing in summer
Guacamole - the classic mexican avocado dip
Bacon Wrapped Carrots
Baby Leaf Salad with Parma Ham and Goat's Cheese
Spaghetti with Sugo Bolognese
Pig Candy
Lemon Pepper
Scallops with Rosemary and Prociutto - a recipe by Gordon Ramsay

Baking Recipes

Carrot Coconut Cake - better than anything a tasted in hip cafés ...
French Lemon Cream Tart
Bûche de Noel - Yule Log
Buttery Jam Cookies
Granola Grabbers
Chocolate Decorations
Snickery Squares
Chocolate Cupcakes
Peanut Caramel - ideal for topping brownies and icecream
Chocolate Sour Cream Cupcakes
Chocolate Chunkers - to die for chocolate cookies
Chocolate Malted Whopper Drops
Chunky Peanut Butter and Oatmeal Chocolate Chipsters
Black & White Banana Bread
Strawberry Tart
Traditional Madeleines
Florida Pie
Polenta Fluted Tart
Russian Grandmothers' Apple Pie
Sticky Buns
Dundee Cake - recipe by Dan Lepard

Bread

Julia Child's Baguette
Tender Potato Bread
Parisian Daily Bread - one of the best baguette recipes I've ever tried

Dessert Recipes

Berry Cobbler
Blueberry Soufflé Pancakes
Caramel Topped Flan (Crème Caramel)
Pierre Hermè's Mousse au chocolat
Crème Brûlée - a french classic
Butterscotch Pudding
Oriental Rice Pudding
Blueberry Sour Cream Icecream
Chocolate Pudding
Panna Cotta with Rosmary and Lavender
Chocolate Honey Caramels
Chocolate Truffles with Grappa

Napkin Folding
3 comments
Comment
from: Zelma - entertainment cagayan de oro [Visitor]
Very Mouthwatering.. It's a good dessert..Yummy :)
2010-02-05 @ 12:43
Wow..love it..I tried it already..Not that bad..my nephew loves it..
2010-02-20 @ 14:26
Cooler Blog. Dein Blog Beitrag hat mir sehr weitergeholfen, danke. Viele Grü�e aus Hamburg
2010-03-18 @ 16:36
Comment feed for this post