WHB: Spaghetti with sugo bolognese
By Claudia on Feb 3, 2008 | In Fleisch, In English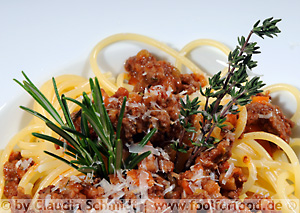 As a host of Weekend Herb Blogging it would be impolite not to serve anything to my guests this weeks. As far as I can see, there's a great number of very nice entries for this week's WHB. Many people around so I chose a lamb bolognese sugo with spaghetti.
You say a sugo bolognese is a simple dish? Yes, I agree. Nevertheless there are a lot of things that are important. Be careful with the stock you choose. It may be too salty as most stocks you buy in supermarkets are already salted. If you reduce the stock it will get even more salty. Best would be a home made stock but I admit that I don't have the time to this very often. If you make a big batch of this sugo pay attention to frying the ground lamb in small batches to roast it more evenly.
My favourite herbs for this week are thyme and rosemary. Especially rosemary with its evergreen needle-like leaves accomanies this sugo perfectly. It complements lamb very well. And in addition: I really love the smell of this mediterranean herb.
This recipe works with ground beef as well. With lamb it's more a "bolognese de luxe" version.
Here's the recipe for the sauce:
200 grams ground lamb
25 Gramm diced carrots
25 Gramm diced celery
50 Gramm bacon or pancetta
2 chopped shalots
2 ts minced garlic
1/2 branch thyme
1/2 branch rosemary
100 ml red wine
300 ml lamb stock
2 tb olive oil
1 tb tomato puree
2 tomatoes; diced
salt
pepper
ground chili
40 Gramm Parmesan cheese; grated
1. In a large, heavy-based pan, fry the mince in small batches with some olive oil. Add the shalots, celery, carrots, garlic and bacon. Let cook over a medium heat until the vegetables have softened and taken on a little colour.
2. Add the tomatoes and the tomato puree. Stir to combine.
3. Add red wine and the stock. Bring to the boil, reduce the heat and simmer, stirring from time to time, for at least 20 minutes. Add thyme and rosemary. Season to taste. If the liquid reduces too much, top up with water.
4. Cook the pasta in plenty of boiling water - don't forget the salt! When the pasta is cooked divide the pasta among two dishes and serve the sauce on top. Sprinkle top with grated parmesan cheese.
3 comments
This would be heavenly made with ground lamb. I agree with you about rosemary, I just love the smell and flavor of it, and I think rosemary is perfect with lamb.
2008-02-03 @ 15:42
I love the lamb version of bolognese. You'll have to share some more of your pastas - always so tasty...and look so pretty over at Presto Pasta Nights.
2008-02-11 @ 12:48
Comment feed for this post