By Claudia on Jun 24, 2008 | In Süßes, In English, Nachtisch | 6 feedbacks »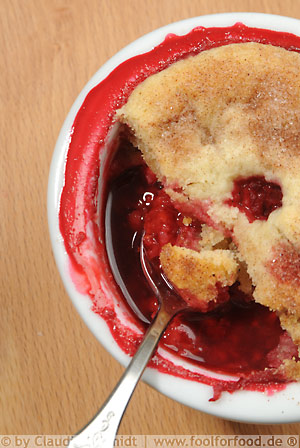 It's baking time! Or in other words: Time to bake from my home to yours as we are baking from Dorie Greenspans "Baking From My Home To Yours". For this weeks "Tuesdays with Dorie" Beth over at "Our Sweet Life" chose the mixed berry cobbler on page 416. When discussing problems with this recipe some bakers form the states said that they would better take there own dough recipes instead of Dorie's. They just found the recipe too bland. Some suggested to tweak the recipe by using cinnamon and sugar on top of the dough.
As fruit cobblers aren't well known in Germany I decided to take the advice of several bakers and tweaked my cobbler as well. I sprinkled the dough with cinnamon and sugar. I wanted to use a berry mix but unfortunately there were only frozen raspberries - the fresh berries are still too expensive. So the raspberries made it into the cobbler. I not only halfed the recipe, I even quartered it because the cobbler was thought to be for two persons.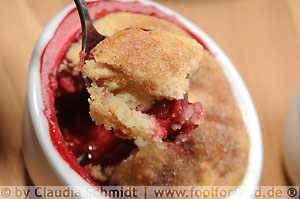 I found the crust delicious. It was a perfect harmony of just a little cinnamon and the fresh taste of the raspberries!
Pages: 1· 2
6 comments
Raspberries are a perfect stand-alone filling for this!
2008-06-25 @ 02:05
All raspberries...what a treat! Love the intense red color of the fruit filling.
2008-06-25 @ 04:26
Boy that looks good!
2008-06-25 @ 05:43
That looks delicious! Cobblers can be made with just about any sort of fruit, all raspberries sounds wonderful. I'm glad you tried it and liked it!
2008-06-29 @ 00:08
Comment feed for this post