Scallops with rosemary in prosciutto
By Claudia on Jan 13, 2007 | In To die for, Fool for photos, Fisch & Meeresfrüchte, In English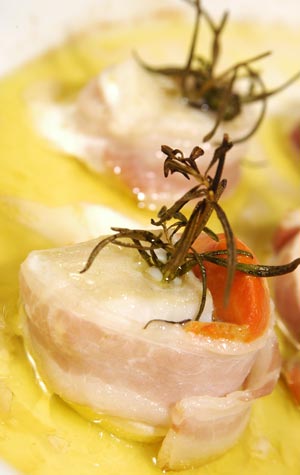 "Coffee and Cornbread" is hosting this week's Weekend Herb Blogging. I have never participated in this event because I didn't find a recipe in time where herbs play dominant role. When I run over the pages of "Gordon Ramsay makes it easy" I knew immediately that scallops with rosemary would fit perfectly for this event.
The recipe asked for monkfish which I couldn't get. Even if wolffish is a completely different sort of fish I chose it. I have some frozen fillets in my icebox.
As many popular chefs Ramsay recommends a short roasting time. I have never liked raw shining fish so I decided to double the time. After 10 minutes the scallops came out in perfect shape without being too chewy what would be a sign of overcooked scallops. In the meantime the whole kitchen smelled rosemary. Heavenly nice! The combination of fish, seafruit, bacon and rosemary makes it a very nice starter. And a very noble finger food for a party.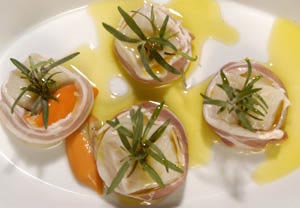 Here's the recipe:
========== REZKONV-Rezept - RezkonvSuite v1.2
Titel: Scallops with Rosemary in proscutto
Kategorien: Meeresfr?chte, Muscheln
Menge: 20 Portionen
10 Scallops
10 Scheiben Prosciutto
270 Gramm (250 g) monfish fillet, skinned
2-3 Long rosemary sprigs
Olive oil to drizzle
Quelle: Gordon Ramsay makes it easy, p. 148
============================ QUELLE ============================
-- Erfasst *RK* 14.01.2007 von
-- Claudia Schmidt
Heat the oven to 400?F (200? C). Slice the scallops in half horizontally. Cut the prosciutto slices in halb lengthwise.
Cut the monkfish into small chunks. Break the rosemary stems into short twigs.
Wrap each scallop disk in a strip of prosciutto, top with a piece of monkfish, and secure with a rosemary twig or two.
Carefully transfer to a baking sheet and drizzle with a little olive oil. Roast in the oven for 3 to 4 minutes until just firm to the
touch.
Let stand for a few minutes, then save warm.
Claudia: Instead of prosciutto I took bacon. Roasted the scallops for 10 Minutes. 3-4 minutes seems to leave them almost raw. 10 minutes was just fine. But maybe it
depends on the oven.
=====
1 comment, 1 pingback
[...] 195;¼chenlatein) Gebratene Garnelen mit Mozzarella/Parmesan-Risotto
Scallops with rosemary in proscuttio
(Fool for Food) Jakobsmuscheln mit Fisch und Schinken &# [...]
2007-01-15 @ 02:43
I like the idea of Prosciutto with the scallops - kind of cuts the richness. And baking makes it easy. Great recipe!
2007-01-19 @ 18:41
Comment feed for this post