By Claudia on Aug 8, 2008 | In Süßes, Alltagsküche, Fool for photos, Vegetarisches, In English, Nachtisch, Frühstück & Brunch, Sommer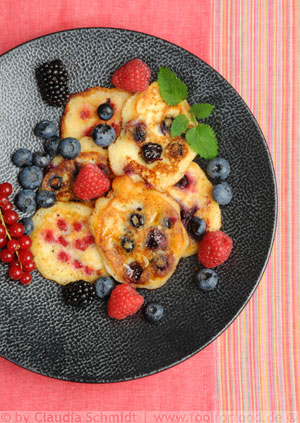 I love summer with all these ripe berries! Sometimes I just eat them right away, sometimes I enjoy them with milk or with a dessert like panna cotta. But the best thing for breakfast are blueberry pancakes.
I was looking for a recipe with buttermilk. I found it at glam.com. It is from Ryan Scott who works at the Mission Beach Caf? in San Francisco. His pancakes are fluffy and delicious. He serves them not only with maple syrup but with blueberry cream.
What I added: red currants and raspberries. Red currants make pancakes taste very fresh and they add a beautiful contrast to the blueberry pancakes. This recipe is definitely a keeper!
Here's the recipe: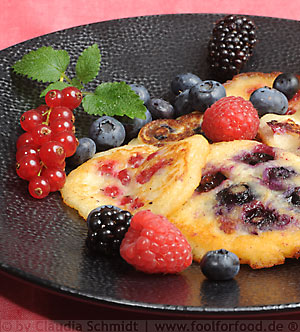 ========== REZKONV-Rezept - RezkonvSuite v1.2
Titel: Souffl? Blueberry Pancakes
Kategorien: Fr?hst?ck, Pfannkuchen, Blaubeeren
Menge: 10 Portionen
1 1/4 Tassen All Purpose Flour
1 1/4 Tassen Cake Flour
1/2 Teel. Bakig Soda
2 Essl. Baking Powder
2 Essl. Sugar
1 Teel. Salt
3 Eggs (separated), room temperature
2 1/2 Tassen Buttermilk
1/4 Tasse Milk
6 Essl. Unsalted Butter, melted
1 Teel. Vanilla Extract
1/2 Ltr. Blueberries
============================ QUELLE ============================
http://blogs.glam.com/glamdish/2008/07/22/top-chef-ryan-scotts-souffle-blueberry-pancakes-recipe/ -- Erfasst *RK* 07.08.2008 von
-- http://www.foolforfood.de
Place all the dry ingredients together into one bowl and mix well. In another bowl add the melted butter to the egg yolks and mix well, then slowly add the buttermilk, milk and vanilla. Now whip the egg whites in a third bowl until stiff (but not dry).
Add the dry ingredients to the buttermilk mixture and blend until everything is moist and lumpy. Important: Do not overmix - very important for tender pancakes. Fold in the whipped egg whites with a spatula until blended (small specks of egg white are no problem). Let the batter rest for 20 minutes.
On a lightly oiled griddle pour one ladle of batter and spread lightly. Sprinkle a small amount of blueberries on top and cook until the underside is light brown. Flip and cook until the other side is light brown. Keep all pancakes warm in a 200 Fahrenheit oven until ready to serve.
=====
Pages: 1· 2