By Claudia on May 13, 2008 | In Kuchen & Kekse, In English | 8 feedbacks »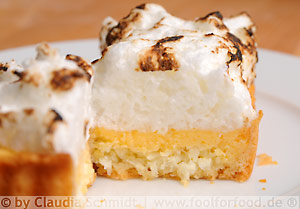 Dianne of Dianne's Dishes chose Dorie Greenspan's Florida Pie for this week's Tuesdays with Dorie. Do you want to know what I really love about this challenge? I bake cakes, tartes and pies I normally wouldn't consider baking at all. It's not that I don't think that this cake or that tart doesn't look attractive but for example I did not know what a key lime pie is while it may be quite familiar to Americans. So I'm glad to try some exotic recipes.
My first problem with the recipe: We don't have Graham Crackers here in Germany. Well, not a real problem because I had some pie crust dough left from my strawberry tartelettes. Baking the Florida Pie was easy. I had some difficulties with the merengue: I took a brulee burner (?) to give the merengue a nice brown finish. But it was really difficult not to burn the whole merengue.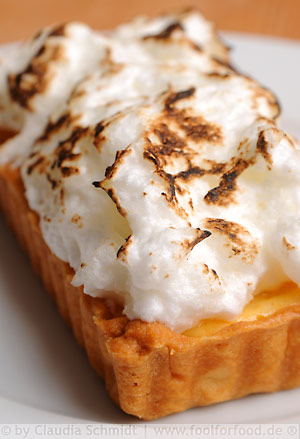 I blame on the merengue itself: Think some more sugar would have been better as sugar melts and burns only at high temperatures. With more sugar it should have burnt more slowly. Or am I wrong?
Nevertheless, the Florida Pie tasted nice. The lemony taste could have been stronger but that may depend on what lime you take. I really liked the coconut! Thanks to Dianne for chosing this recipe!
Pages: 1· 2
8 comments
I love the rectangular tart - it looks beautiful!
2008-05-14 @ 00:51
Beautiful picture. Somehow the thin lines of browned meringue make it look really light and airy. Very pretty!
2008-05-14 @ 02:47
sehr sch?n! love the fluted tart on your pie, it looks great!
2008-05-14 @ 05:07
Lovely square shape! It looks terrific - glad you tried something exotic!
2008-05-14 @ 15:03
What are you talking about? I think the meringue looks so good! Love the square shape. Great job! :)
Clara @ I♥food4thought
2008-05-14 @ 16:22
That looks terrific!
2008-05-14 @ 17:49
great job! love the square tart pan you used
it's interesting seeing the perspective of other foodies abroad!
2008-05-17 @ 07:47
Comment feed for this post