Kategorie: In English
By Claudia on Mar 25, 2006 | In Alltagsküche, Vegetarisches, In English | 1 feedback »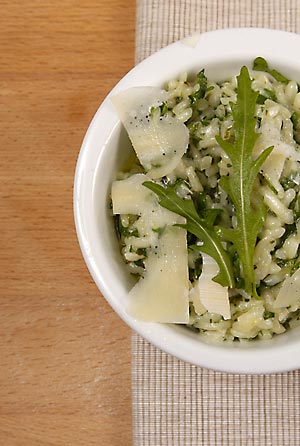 What a challenge on Friday evening! The 24th round of 'Is My Blog Burning' is hosted by Barrett from Too Many Chefs. A risotto in 30 minutes? From scratch to the completed meal? Yes, it's possible. Nevertheless it takes multitasking abilities. While stirring the rice you have to chop the rucola, grate the cheese and add some chicken stock from time to time.
First I wanted to make a rucola pesto to give the risotto a spring meadow green colour. But time runs so fast when you cook! I had to give up this idea and so only the finely choped rucola ended up in the risotto.
If you want to prepare this risotto within 30 minutes take care of a good "mise en place" and put everything right in front of you. And don't forget to stir your risotto. Otherwise it quickly sticks to the bottom of your skillet.
Here's the recipe:
By Claudia on Dec 22, 2005 | In Fundstücke, In English, Weihnachtsrezepte | 5 feedbacks »

Bitte hier für die deutsche Version dieses Artikels klicken!
Unbelievable: In the US "German Glass Pickle Ornaments" are appreciated for decorating the christmas tree. People believe it's a german tradition to decorate the tree with a little cucumber made of glass. I couldn't believe it when I watched it minutes ago on tv. It was the first time I've ever heard of this "tradition". Even my x-mas books don't say anything about this "old custum"...
On a christmas decoration & gift store site I even found the story behind this so called tradition:
"The glass Christmas pickle ornament is always the last glass ornament to be hung on the Christmas tree. The parents hide the glass pickle ornament in the Christmas tree among the other German glass ornaments. When the children were allowed to view the Christmas tree they would begin gleefully searching for the German glass pickle ornament. The children knew that whoever found the glass pickle ornament first would receive an extra little gift and would be the one to begin the unwrapping of the Christmas gifts." (copyright)
By Claudia on Nov 27, 2005 | In Kuchen & Kekse, Fool for photos, In English, Weihnachtsrezepte | 15 feedbacks »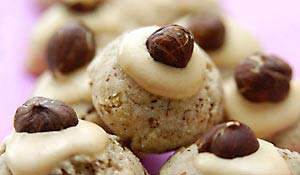 Bitte hier für die deutsche Version des Rezept klicken!
To the joint SHF/IMBB event "Cookie swap" initiated by Alberto and Jennifer I contribute my favourite xmas-Cookie: Cinnamon Balls (german: Zimtkugeln). I've been baking them for about 15 years now. I found them in Germany's top women magazine "Brigitte". It must be appreciated by many people because two years ago the recipe appeared again in the same magazine as a favourite christmas treat.
The recipe: