IMBB 24 - Make a rucola risotto in 30 minutes!
By Claudia on Mar 25, 2006 | In Alltagsküche, Vegetarisches, In English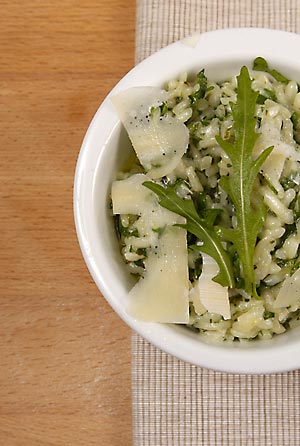 What a challenge on Friday evening! The 24th round of 'Is My Blog Burning' is hosted by Barrett from Too Many Chefs. A risotto in 30 minutes? From scratch to the completed meal? Yes, it's possible. Nevertheless it takes multitasking abilities. While stirring the rice you have to chop the rucola, grate the cheese and add some chicken stock from time to time.
First I wanted to make a rucola pesto to give the risotto a spring meadow green colour. But time runs so fast when you cook! I had to give up this idea and so only the finely choped rucola ended up in the risotto.
If you want to prepare this risotto within 30 minutes take care of a good "mise en place" and put everything right in front of you. And don't forget to stir your risotto. Otherwise it quickly sticks to the bottom of your skillet.
Here's the recipe:
========== REZKONV-Rezept - RezkonvSuite v0.98
Titel: Risotto With Rucola
Kategorien: Reis, Ruccola
Menge: for 1 person
1 tb Olive oil
1 small Onion, finely chopped
3/4 cup Risotto rice (Arborio or Vialone)
1/4 cup White wine
1-2 cups Chicken stock
1/2 ts Salt
1 tb Butter
Grated Parmesan cheese
50 Gramm Rucola, very finely chopped
============================== QUELLE ==============================
-- Erfasst *RK* 24.03.2006 von
-- Claudia Schmidt
Heat the oil in a heavy skillet. When it is hot, add the onion. Cook
for 2-3 minutes; do not allow the onion to brown. Add the risotto
rice and stir it well with a wodden spatula; do not allow it to
color. Be certain that the onion and rice are well coated with the
oil. Add the wine and let it almost cook away. Start to add stock little by little. Cook the mixture, stirring constantly, until the
liquid is absorbed. As the rice becomes tender, stir it with the
spatula to keep it from sticking to the pan. Add salt. When the rice
is done, stir in the butter, a little grated Parmesan cheese and the
chopped ruccola. Serve at once.
=====
No feedback yet
Comment feed for this post