SHF No. 22 - Can you can? Raspberry and Blackberry Jelly
By Claudia on Aug 26, 2006 | In Ans Eingemachte, In English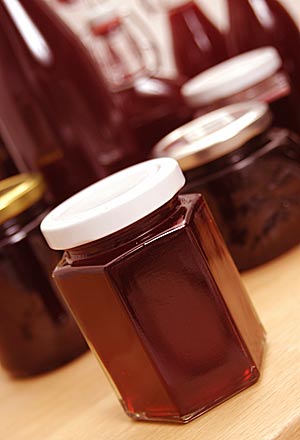 I'm always late for taking part in food blog events. But this time I reserved a whole day for Sugar High Friday, initiated by Jennifer from The Domestic Goddess. This month's edition is hosted by Nicky and Oliver from Delicious Days in Munich. "Can you can?" A brill?ant question and time to think about preserving the summer.
Raspberry season is over here in the north of Germany and I was so sorry to have eaten all the fresh raspberries I bought. They were so tasty and juicy! So I decided to cheat a little. I bought 2 kilos of frozen raspberries and put them into the juicer extractor. I got about 1,2 l pure juice. Half of the juice is bottled for the winter and will provide a little summer feeling when transformed into red fruit jelly, known in Germany as "Rote Gr?tze".
With the remaining juice I prepared raspberry jelly. Pure rasberry jelly with no exotic combination of flavours. No experiments, just jelly I knew from my great-aunts when I was a child. Both had gardens and a lot of raspberries each summer.
I took about 600 g juice and 600 g preserving sugar 1:1 and added 1/4 teaspoon of citric acid. I brought both to a boil and let it boil for about four minutes until the jelly thickened when a little was poured on a plate. I skiped this test because I have done it quite a few times.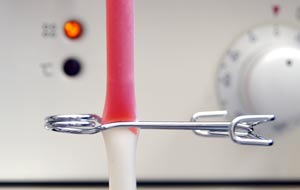 Filling the boiling hot jelly (same applies to the juice!) in sterilized jars is an important thing. Everything has to be very clean in your jelly production. After closing the jars with a twist-off lid I turned the jars upside down for about five minutes to ensure a proper vacuum.
As for the juice I bought special bottles which we call "B?gelflaschen". They come along with an ancient looking cap.
I was so happy with my results that I decided to repeat the juice & jelly production with a kilo of fresh blackberries.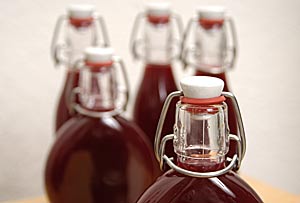 Both juice and jelly answer for making blackberry and raspberry curd or joghurt and for flavouring sweet dishes.
1 comment
Lovely pictures! I would love to try it!
28/08/06 @ 20:20
Comment feed for this post